by Richard Jones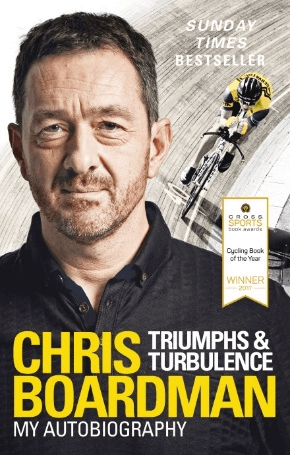 Reading Cass's recent blog piece on Bookshops on the Trails reminded me of browsing in the Dartmouth Bookseller last year, and finding Chris Boardman's excellent autobiography 'Triumphs & Turbulence' in the independent bookshop.
I can remember his gold medal in the 1992 Olympic pursuit, aboard the futuristic Lotus bike, and when he went on to wear the Tour de France yellow jersey for the first of three occasions a couple of years later.
His is one of an array of cycling books I've bought over time, having started to follow the Tour de France when American Greg Lemond won his first Tour in 1986, ahead of French cycling hero Bernard Hinault, a battle vividly brought to life in the pages of 'Slaying the Badger'. The next year, Ireland's Stephen Roche won the Tour, as well as the Giro d'Italia and the World Championships, and I was hooked.
Top Cycling Reads
There are so many excellent books on cycling that it would be difficult to cover them all, so here I've put together a summary of some of my favourite cycling reads.
Tom Simpson's Story
For many people, the spectre of performance-enhancing drugs casts a long shadow over the sport of professional cycling. This goes back many decades, and the tragic story of Britain's Tom Simpson demonstrates that, for some riders, the need to gain an advantage would have devastating consequences.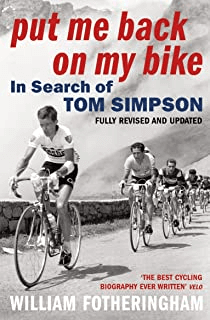 William Fotheringham's superb 'put me back on my bike' tells Simpson's story as the first Briton to wear the yellow jersey, a former World Champion, Olympic medallist and winner of three of cycling's 'Monuments' (the five most high-profile one-day races, wonderfully dissected in Peter Cossins' 'The Monuments').
In the 1967 Tour, nearing the summit of Mont Ventoux, suffering in the intense heat, an exhausted Simpson fell from his bike. His team car arrived and tried to persuade him to quit, but he was determined to continue and insisted he carry on.
About 500 yards up the road, he collapsed on his bike, held up by spectators. Despite the valiant efforts of a nurse and his manager, Simpson was pronounced dead soon after.
With amphetamines found in Simpson's jersey and brandy in his water bottle, the tragedy left a lasting legacy in cycling. The spot where he fell is commemorated by a memorial on Mont Ventoux.
Another fascinating book, 'Mr Tom: The True Story of Tom Simpson', written by Tom Simpson's nephew, Chris Sidwells, is also well worth a read.
Yellow Jersey Racer, Guy Andrews
After he nearly died following a hunting accident, Greg Lemond returned to cycling to win the 1989 Tour in the closest ever finish, overcoming France's home favourite, Laurent Fignon, in the final stage time trial to win by eight seconds. Lemond returned to win the 1990 race as well, and his incredible story is told in Guy Andrews' book, 'Yellow Jersey Racer'.
Indurain, Alasdair Fotheringham
However, Lemond would soon find his crown taken from him. The Tour was dominated in the early 1990s by Spain's Miguel Indurain, who won five consecutive Tours between 1991–1995, excelling in time trials but also able to haul his powerful frame up the mountains to compete with the specialist climbers.
Despite his supremacy in the peloton, Indurain was a shy, humble character and a man of few words, but his story is told in fascinating detail by Alasdair Fotheringham in the book 'Indurain'.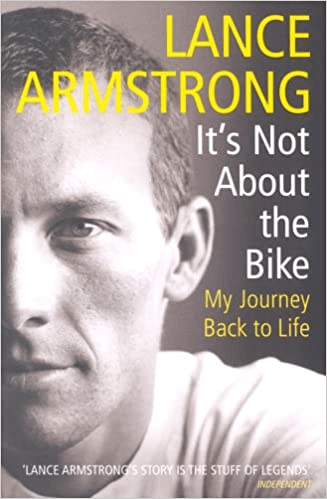 It's Not About the Bike, Lance Armstrong
The 1990s also saw the emergence of one of cycling's most notorious characters, Lance Armstrong, who won the World Championship road race in 1993 along with his first Tour de France stage win. Following another Tour stage win in 1995, he was diagnosed with cancer in 1996, from which he recovered, despite being given a 30% chance of surviving, to make a comeback to cycling in 1998.
The following year saw the first of seven consecutive Tour wins and, despite these victories being wiped from history due to his infamous doping confessions, I don't think any history of the Tour would be complete without featuring Lance Armstrong. Like many others, I was captivated by his recovery from cancer, and his book, 'It's Not About The Bike', charted his battle through treatment and subsequent journey to winning the Tour. The follow-up, 'Every Second Counts', was published following several more Tour victories and delved into his life in more detail.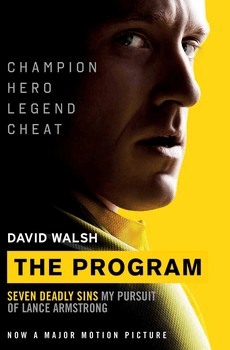 Doping Scandals
In many ways, it's the ensuing controversy regarding Armstrong's suspected, and later confirmed, doping conduct that provides a wider landscape of writing, with some excellent books on the subject. Foremost amongst these is David Walsh's superb 'The Program', later made into a film, an account of his 13-year quest to prove that Armstrong's success was built on the lie about doping.
Two other very good books that explore the whole Armstrong period of 'omerta' — the code of silence in the peloton — were written by two people in the middle of the storm: Emma O'Reilly's 'The Race to Truth' and Christophe Bassons' 'A Clean Break'.
The Race to Truth, Emma O'Reilly
Emma O'Reilly became Armstrong's personal soigneur (a rider's masseuse, cook and general assistant) and so had an inside view of this period of time. She expected to be one of many whistle-blowers on the doping culture in the sport but ended up being left isolated and shunned as cycling closed ranks. Only later, once the truth really came out, was she able to rebuild her reputation and even reconcile somewhat with Armstrong himself.
A Clean Break, Christophe Bassons
Christophe Bassons was a rider in the Festina team that was caught in a huge doping scandal in 1998. He was the only rider not to be arrested or implicated in using performance-enhancing drugs, after his team-mates confessed that he had refused to join their doping ring.
He subsequently spoke out about doping in the sport, stoking the wrath of Armstrong and others, which led to the end of his career. Infamously, when Bassons set out on a break in the 1999 Tour, he was chased down by Armstrong himself, who later turned to the camera and mimicked a zip across the lips gesture — a clear reference to the code of omerta: you don't talk about it.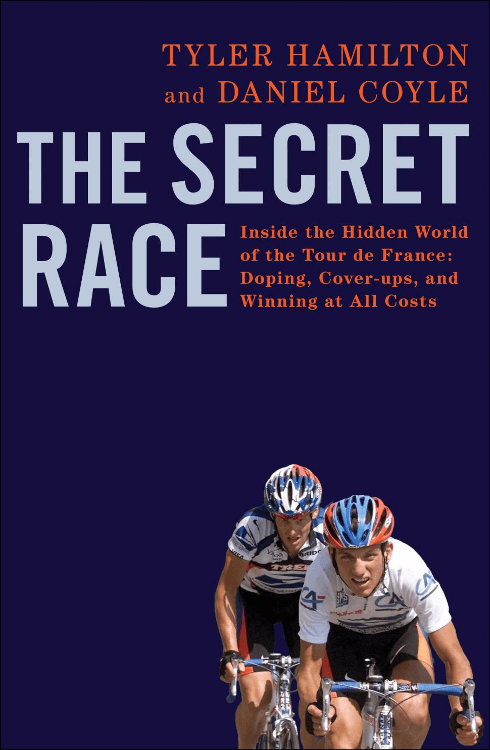 The Secret Race, Tyler Hamilton and Daniel Coyle
Another excellent book about this era is Tyler Hamilton's 'The Secret Race', a brilliantly engaging account of life on Armstrong's US Postal team, including the doping and blood transfusion practices they engaged in as winning at all costs became the norm.
Despite the doping, Hamilton was a phenomenal bike rider, with incredible determination. In the 2003 Tour, he crashed heavily at high speed, leaving him with a broken collarbone.
Nobody would have questioned him if he'd quit the race there and then but, with the break being fairly stable, he found that he was still able to ride his bike, albeit in agony, and so made it to the start line the next day. And the day after that.
Riding in support of Armstrong, Hamilton improved through the race and, almost unbelievably, finished fourth overall. Even taking into account the later admissions of drug-taking, this was a superhuman effort of endurance.
One Way Ticket, Jonathan Vaughters
Jonathan Vaughters is currently the manager of World Tour team EF Education, for whom Britain's Hugh Carthy achieved such success at the Vuelta last year. He was also an Armstrong contemporary on the US Postal team and another to come clean about his own doping past, another voice to bring about Armstrong's downfall.
'One Way Ticket' is Vaughters' compelling account of his determination to succeed in establishing a racing career, the doping he engaged in to try and compete and fit in, and the subsequent establishment of his own team with a firm anti-doping ethic.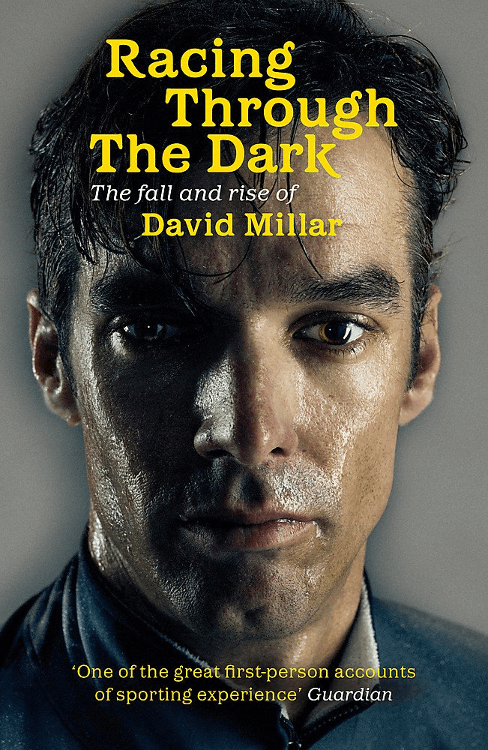 Racing Through the Dark, David Millar
'Racing Through the Dark' tells David Millar's story, charting his initial success in cycling, joining the ranks of the elite with the Cofidis team and going on to wear the yellow jersey after winning the prologue in the 2000 Tour.
However, Millar had begun doping in order to compete and he was arrested in 2004. Despite initially denying the doping allegations, he later admitted using EPO and was banned for two years.
Following his ban, he returned to the sport and helped to establish Jonathan Vaughters' Garmin-Slipstream team, becoming an advocate of racing clean and achieving further success on the bike.
These days he's part of ITV4's Tour and Vuelta a España commentary team, giving an excellent and perceptive insider's voice on the ebb and flow of the peloton.
His later book, 'The Racer', is more of a rounded look at what it's like top be a professional cyclist, but is still a fascinating read.
The Descent, Thomas Dekker
I'm currently reading Thomas Dekker's autobiography, 'The Descent'. A teammate (and roommate) of David Millar, Dekker was a hugely talented cyclist whose drug-taking and hedonistic lifestyle led to his fall from the top of the sport, admitting that 'doping was a way of life'. It's certainly a high-octane confession of one man's excesses that really grabs your attention.
Rough Ride, Paul Kimmage
Another classic is Paul Kimmage's 1990 book 'Rough Ride', an early exposé of doping in the sport. Kimmage grew up in Ireland, determined to make it as a professional cyclist and compete in the Tour de France, only to find, once he got there, that it didn't matter how much work you put in. Success came down to the drugs the top riders were taking.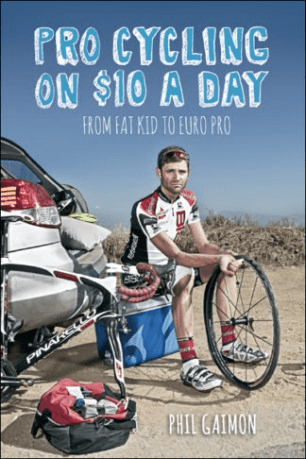 Phil Gamon
There are also plenty of books by riders who aren't confessing to past misdemeanours. Phil Gaimon's books, 'Pro Cycling on $10 a Day' and 'Draft Animals', are amongst my favourites.
Gaimon is a hugely entertaining writer, whose words have you urging him on as he battles to reach his dream of becoming a pro cyclist and then stay in the peloton, especially as an outspoken advocate of riding clean — he has a tattoo saying as much on his arm!
Highly recommended reading. I loved these books!
The Climb, Chris Froome
Chris Froome's autobiography, 'The Climb', I initially bought because of all he's achieved, not necessarily because I expected it to be an excellent read.
However, it's an extremely interesting insight into Froome's career, from growing up in Kenya, mountain biking in the rift valley and representing the country in the 2006 Commonwealth Games, to his successes in the Tour de France, including reining himself in as he helped Bradley Wiggins to his own yellow jersey success.
My World, Peter Sagan
Anyone who has even a vague interest in cycling will be familiar with Peter Sagan, a hugely talented and flamboyant rider who has won the Tour's green jersey a record seven times, along with winning multiple Grand Tour stages, three consecutive World Championships and two of cycling's Monuments, Paris–Roubaix and the Tour of Flanders. His unique and very entertaining story is told in the book, 'My World'.
Ned Boulting
I couldn't possibly put any compilation of cycling books together without including Ned Boulting, whose 'How I Won the Yellow Jumper' and '101 Damnations' are both absolutely terrific accounts of being behind the scenes on the Tour de France.
Ned was initially thrust into reporting on the 2003 Tour knowing very little about the race and, after David Millar's chances of time trial victory had been wrecked by a mechanical, he announced to the camera that the British cyclist was "kissing goodbye to the yellow jumper". Said under pressure, this comical mistake gives the title to Boulting's immensely enjoyable and funny memoir.
He grew to love the race and everything about it. Damnations records his dispatches from the 101st Tour de France in 2014, a race that started in Yorkshire and saw Mark Cavendish crash out on the first stage, with pre-race favourite Chris Froome dropping out with a broken wrist early on, leaving Italy's Vincenzo Nibali to triumph in Paris.
For me, July is all about the Tour (well, apart from last year), with commentary from Ned Boulting, alongside David Millar, irreplaceably interwoven throughout this greatest race on earth.
Epic Rides
If books about pro-racers and the Tour are not your thing, I can very much recommend Tim Moore's 'The Cyclist Who Went Out in the Cold', a story about riding the length of the old Iron Curtain, and 'French Revolutions', in which he decides to set out to ride the whole 3,662km of the 2000 Tour de France route.
Both books are full of humour and tall tales as he presents captivating accounts of the landscapes he travels through and the people he meets, alongside his own antics.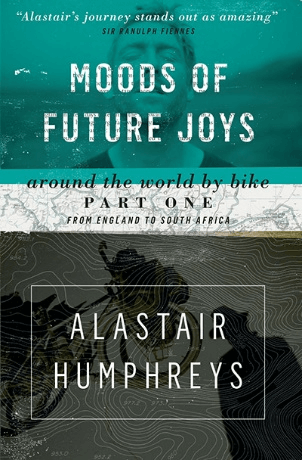 Two people who have written books about circumnavigating the globe are Mark Beaumont and Alastair Humphreys, with Beaumont's 'The Man Who Cycled the World' probably the best-known of these. He is certainly a driven character, epitomised in the follow-up book 'Around the World in 80 Days', in which he aims to break the record for cycling around the globe. I almost felt sorry for his support team, who endured his moods and tantrums as he pushed himself to the brink of human endurance!
Humphreys' wrote two books of his journey around the world by bike, which have the slightly unusual titles of 'Moods of Future Joys' and 'Thunder and Sunshine', but don't let this put you off, as they are both excellent accounts of his travels, painting a really human picture of an epic journey.
Escape by Book or Bike
So, if ever you need inspiration to get out on your bike, or to set the wheels of imagination in motion, just turn to the pages of one of the books above and delve into cycling history, through the stories of some of cycling's best-known characters or the exploits of cycling adventurers.
I recently heard the line, 'a book or a bicycle can set you free', so whether you stay in and read or head out and ride, liberation is right there waiting for you.